On November 19, 2013, Ruth moved to her new digs.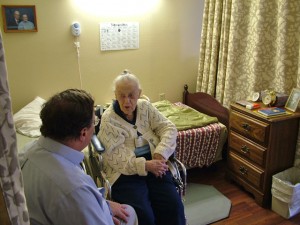 At this distance in time, 3 weeks after the move, and with no new bad news following, it seems to have been not too hard… not as hard as the first time.  But who can really judge the difficulty?  If I found it hard, what about Ruth…?
I started the hunt for a Skilled Nursing / Long Term Care place with the five places we had visited back in May and June.  Of them, Benton and Brighton were out and Freedom Pointe and Park Meadows did not provide Skilled Nursing.  (I am told, I tell you, "about 5 % of residents need it.")  This left Brookdale.  Research and recommendations from friends provided two others, The Forum and Rosehill.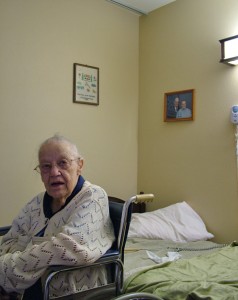 I started the hunt in early November.  On the 11th I had narrowed it down to the three.  We knew there was space at The Forum and they had already called and told us Ruth "would be accepted in nursing."  Rosehill was the furthest away from Benton and priced higher than The Forum.  I didn't yet know the prices for  Brookdale.  I had asked them to send a Personal Assessor to Benton.  They promised Monday; in the event, she didn't go til Thursday.  The conclusion was as expected: Ruth would do better in the social environment of Long Term Care.
One of the things I've learned this year is the tremendous spread of definitions in the terminology of the aged.  From state to state and institution to institution, it varies as wildly as harnessmaking terms varied one hundred years ago.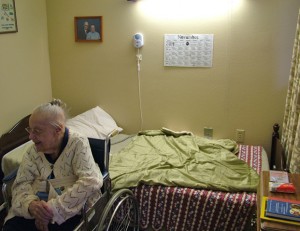 That day, Veterans Day, was a Monday.  George had given me an ultimatum:  Today we decide, commit.  This, because we were leaving on November 15th, Friday, for our long-planned trip back to Kansas (the fifth trip to KS of this year, as it happens).  He left for work and I swung into action, finally obtaining Brookdale's prices, something I should have obtained a week ago.  Well, they were a third again higher than The Forum.  As I talked with a marketing agent from The Forum, a very nice young lady named Newell, I found myself falling in love.  Time after time, point after point, not a sudden moment but a long series of little weights landing on me and piling up.  She had worked at Overland Park Place as a receptionist.  "Nobody leaves The Forum" (this was the answer to our most-desperate but most-unable-to-ask question, would we have to move her AGAIN).  She knew residents who had left O.P.P. to come to The Forum:  "There was a tradition of them choosing it."  Biggest risk was 'elopement' or flight risk.  In-house hospice.  They had two semi-private suites open.  Then the trigger:  "I know that name!  I know her, Ruth Young…"  When I heard that, I made my decision.
And so we committed to The Forum.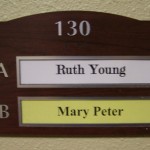 For the first time since 2002, Ruth would have a roommate.  This condition was supposed to give residents "more of a reason to live."  Not since the passing of Ross, George's father, had she had any loss of personal space.  But also, by this time Ruth could barely propel herself around.  The walker was last used in late October.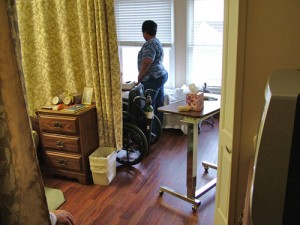 I believe this person is related to Mary Peter.  Mary herself is a very nice person.  She travels with an oxygen tank.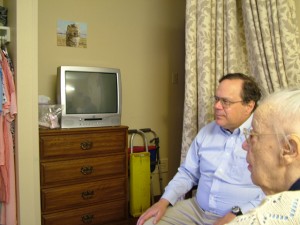 Two different views of the television on the dresser.  For at least a year we'd been able to remove TV from Ruth's life.  Now this decision was taken out of our hands.
At least I was able to recycle some of the picture-hanging hardware, and put up a semblance of familiar pictures.  I couldn't find a hammer so used a shoe-heel to drive in the nails.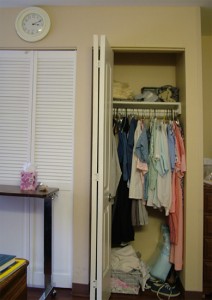 Back at Benton House, we were scrambling to render down a large two-room apartment into this semi-private suite.  The closet is a particularly perfect example.  It is 42 inches across.  Somewhere in there are three garments I had taken back to Pennsylvania to dry-clean and then transported back to Kansas for her.
She chose books to take with her, and magazines.   They are in the dresser whose corner just shows in this picture (see two shots above).  The other dresser, under the TV, holds underwear and t-shirts.
You do the best you can.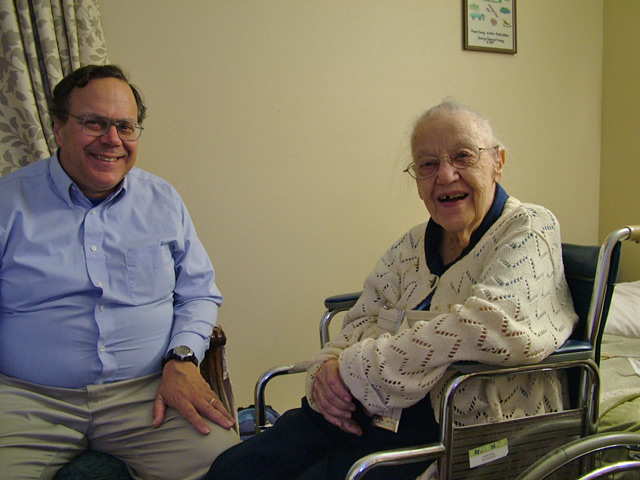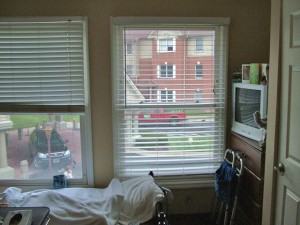 Yes, there is a window.  You have to walk around the curtain for it, but here it is.  The bed in this view is Mary's.  The closet door hard on right is Ruth's closet.
The view itself is of the parking area and front entry arcade (red cobblebrick) of this part of The Forum.
There are two halves to The Forum.  The northern half, closer to 95th Street, deals with Independent Living and Assisted Living.  (You can see its three floors through the window.)  On the satellite view, it is the large X-shaped building.  Below it, to the south, is a V-shaped echo.  This deals with Rehabilitation, Long Term Care and Skilled Nursing, and is called The Health Center.
Ruth's room is on the second floor.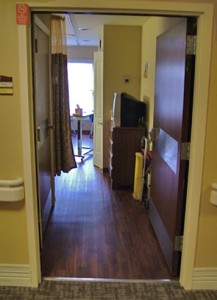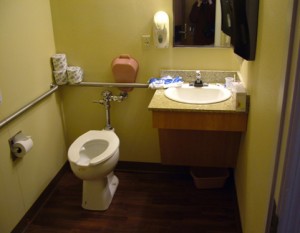 The bathroom: a far cry from what she was dealt over at Benton House.  From a practical standpoint, it meant most of the supplies we had gleaned and chosen for her bathroom became superfluous.  Some were saved and taken home to PA; some were given away; a bare handful travelled with her;  and the rest, about 50%, were tossed.
This ratio is not so far off of the entire apartment, except for the furniture.  I have to slip in here that I am quite pleased with how the furniture was dispersed.  Family, friends and Ruth's long-recommended favorite charity, Cross Lines, got it all.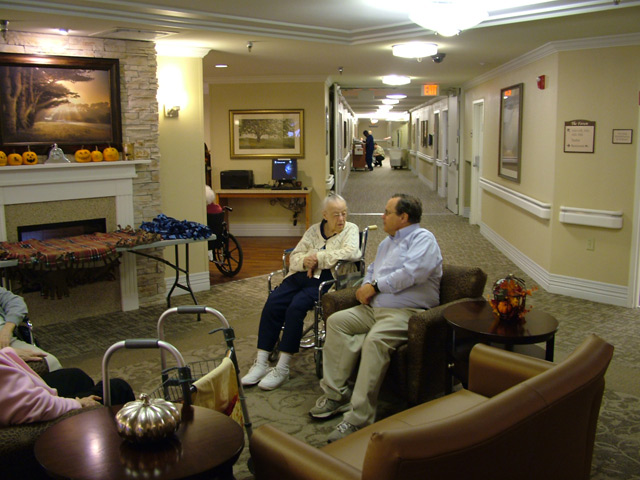 Here you have a view of the common area, or lobby, of the second floor of the Health Center at The Forum.  The elevator is to your right.  The hall behind Ruth and George is the rehab hall.  Her own hall is to the left.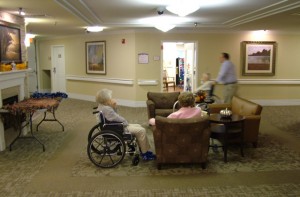 For some reason I love this shot.  Indeed, we went through like a whirlwind.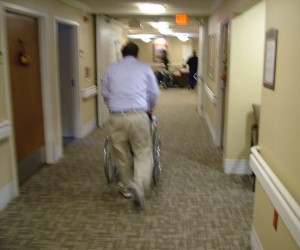 This is her hall.  He's headed back out to the common area after having emerged from her room.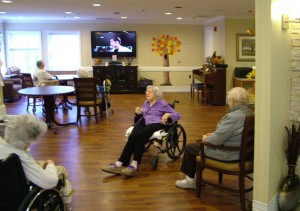 This shows what's behind the hearth: the rest of the common area.  Lo and behold, a great flat screen!  and lo and behold some more, a spinet piano.  Long and far cry from the Pearl River baby grand at Benton, at least it IS a piano!!  I found out anyone could play it… but rarely did such a thing happen.  Perhaps because of advanced age, (high turnover?) perhaps because none of the staff knew how, I was told that if a piano player turned up it trumped all other forms of entertainment by default.  Naturally, then, I had to give it a try.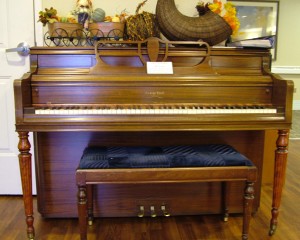 For a few moments there, I was the prime entertainment and source of music on the floor.  Some of my audience was still alive, and appreciated the impromptu concert.
Long may Ruth be numbered among them.