We arrived at Bay To Remember on December 2, 2013.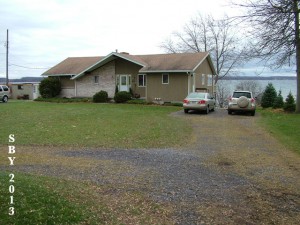 This pleasant lakeshore house will be our home for the next two months.  We are just south of the city of Geneva, New York, on the west side of Lake Seneca.  This is the central of New York's Finger Lakes.  You are thus looking east…
We are here for the duration of OWLeS, Ontario Winter Lake-effect Systems experiment.  Funded by the National Science Foundation, this particular experiment involves 9 different universities and the Center for Severe Weather Research.  The CSWR is based in, oh delight, Boulder, Colorado — my natal city.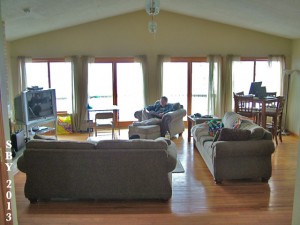 Elsewhere the experiment will be covered; in fact, the amount of coverage is projected to be astounding!  such are successful field experiments.  So I'm not going to say much about it, other than to point you to its website:  http://www-das.uwyo.edu/~geerts/owles/
This is what you see when you walk in the front door.  The table in the right rear is the computer table, and the man in the chair is George, my husband.  He doesn't really have a title for the experiment, although "Flight Scientist" is as good as any.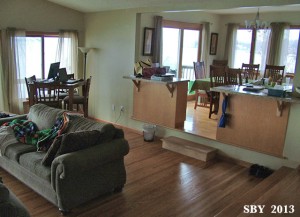 When we first knew the experiment was funded, I was given the task of finding lodging for us.  George gave me a number: per diem multiplied; this was my maximum, not to exceed.  It was in the thousands, but single digit eh?!  I took about three quarters of it and started by looking at hotels.  Duh.  That did not work.  A hotel for 2 months??  Not!  Next, I tried apartments.  The problem here was all the leases were year leases.  It was whilst talking to a real estate agent that I first heard the magic word, VRBO.
Vacation Rental By Owner.
http://www.vrbo.com/vacation-rentals/usa/new-york
I had only recently read about VRBOs in TIME magazine.  It was like a door opening.  With a bit of trust and lot of imagination, (and my background of reading Architectural Digest for fun), my dreams took root, then started walking, trotting, galloping and then flying!!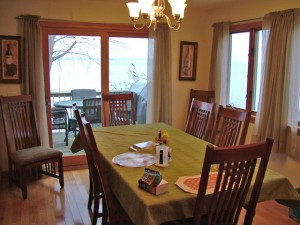 I used location and price, as well as criteria of how many bedrooms and baths.  Ideally I wanted two bathrooms.  Sounds extravagant for two people (a married couple no less!) but I know these two people.  After 25 years, our bladders are on exactly the same schedule.  I also wanted a work space for my tack shop.
What made it all work, what made VRBOs such a good deal for us, was the simple fact that we were staying over the winter.  This is not merely shoulder season, this is the ultimate OFF season!  The frightful prices were for summer tourists, weekends and vacation weeks  They dropped to very reasonable lows along with the temperature.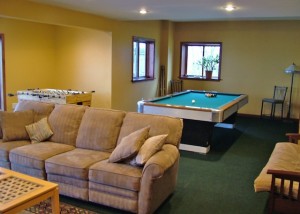 I had narrowed my choices down to three when I got a phone call.  The landlady for this particular property wanted to know if I had any questions!!  I was somewhat flabbergasted.  I had only just begun to dream… I thought I couldn't afford the place.  She asked how much we had in mind.  I spluttered and hawed, finally mentioning a range which matched my three-quarters.  And of all things, she promptly made an offer right in the middle of my range!
As though I could name my own price!  I bit.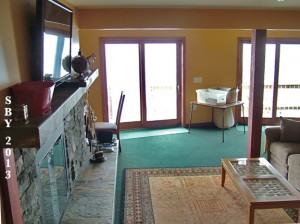 The final kicker was my asking whether the Lake would freeze, and she digging up the weather bouy which rides there.  She emailed me the link. Such devotion and courting of business was beyond my own capacity and certainly not possible to resist.  The other two properties, I should say, took forever to get back to me (one of them didn't reply until after we'd mailed our down payment).  She was prepared and she was just plain nice, and that has been the case ever since.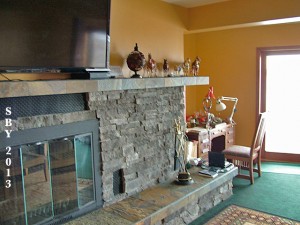 So here's the basement, with its second flat screen TV, pool table, fooseball table and cushy couches.  There's a bookcase to the right of the pool table, behind the couch.  And this, taa-daa, is my work space corner.  The TSII has set up in some interesting places over the years — field experiment tents, ships, apartments — and this one has got to be one of the fanciest.  The house even has a hot tub.
I confess that we have used such a thing only once before.  I'm the sort for whom a soak in the tub is sufficient.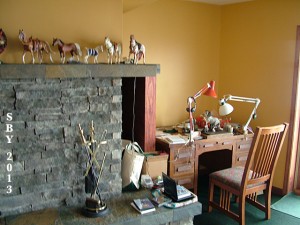 And so the wheel turns.  A week has passed since we arrived.  The plan is to drive down to State College once a week and take care of the mail, the plants and the recyclables, and bring back anything we need.  I've made the drive once: 193 miles one way.  The list expands:  my own cheese grater, a particular book, chip clips, a certain pattern for a saddle.  As time goes by we adapt to our new home more and more, by purchase or fetch, or just by getting used to things.  Bad: can't see out the front door very well.  Good:  sound of waves at night.  Bad:  no piano  (I went on campus and used a practice piano).  Good:  sense of spaciousness, great carpet for excercise, and fabulous movies.  I've already finished one puzzle.
Tackmaking has begun again, and that is always a good sign.  Geo's shingles are healing well, and we are looking forward to some good storms to measure this very week.
Stay in touch.