Last Sunday (April 22) I had the great pleasure of lying on my stomach in a stubblefield in 46 degree weather under overcast skies. It was cold!! But I was having too much fun. This new saddle, by Evelyn Munday of California, is inspiring me in a way I haven't experienced in a long time — too long — and I was determined to have a good old fashioned photo shoot. It was a pity no one else could come along, but maybe these pictures will give you an idea…
The saddle arrived Friday, and Saturday night I was staying up late picking out which horse went with which blanket and bridle. It's nice to have a fat selection: My herd numbers 395, accumulated over 40 years. I confess I'd known from the beginning that the quality of the saddle far outstripped the blanket it came with. My herd is a communist establishment when it comes to tack, so we borrowed a total of 3 different blankets from 3 other saddles, and as it turned out 3 other pieces of headgear as well as the bridle which came with the saddle. I have surprisingly few "straight" Western bridles (probably the byproduct of being such a braider). By straight I mean minimally silvered, tooled or decorated with anything. So I was pleased to add Munday's. It is tooled beautifully to match the set. This is surely her great strength, and what attracted me in the first place: the combination of realism and crisp neat carving, as well as the superb color.
But I couldn't resist trying it out with other blankets and hackamores.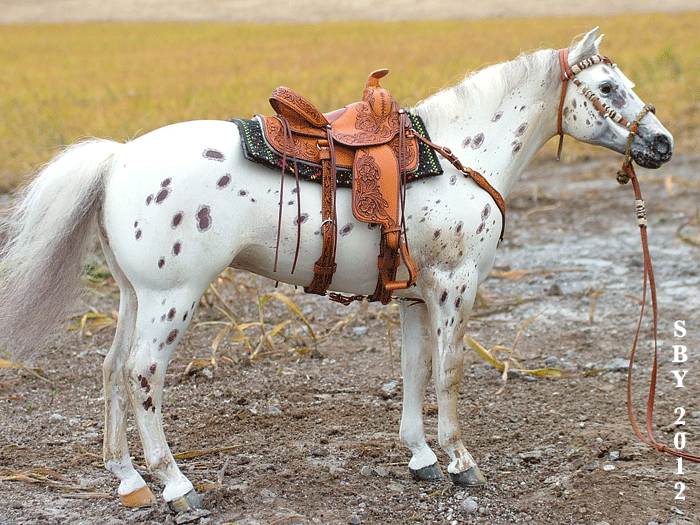 First off we have Timmaine, a remake from olden days. How many of you have heard the name of Fara Shimbo? She used to live a mere 4 miles away from my Boulder house. This horse dates to 1987. Fara drew on all her spots with colored pencil, a new technology at the time and one I have seldom seen since. The hair mane and tail is probably doghair — Fara was an animal person bar none, writing several books about ferrets, owning a racehorse and being involved with Akhal Tekes for years.
This blanket, what I call my black diamond, was one I picked up at Didi Hornberger's show last fall (Oct 2011, Harrisburg). I have no idea who made it; it is a jewel-like patterned weave with glued-on felt backing. Normally I hate backings because they add bulk, but in this case both layers are quite thin. The hackamore is ours 🙂 what I call "Carter's Hack" since I made one like it for Kim Carter (1996). Kim had given me an advertisement page clipping for a beautiful hackamore by Kathy's Show Equipment, a Californian full-scale saddler which (I believe) is still in business. So I should call it Kathy's Show Equipment Hackamore, but it just doesn't sound the same…  It is a rare case of twin pieces, where I made one for myself.
I thought the roughness and "rustic" feel of the hackamore suited the 'rough' remake, while the colors dictated the overall composition.
Isn't it beautiful??!!
I love the smooth cinch buckles.  Even if they are Rio Rondos they don't tear the leather.  She even tooled the billets, something I have yet to master!!  at least to this level.  A few small details:  the snaphook to the martingale (visible behind the elbow) is handwound wire, as are the bit clips; and the wire keeper for the tug straps is in the form of a buckle, something I haven't seen before.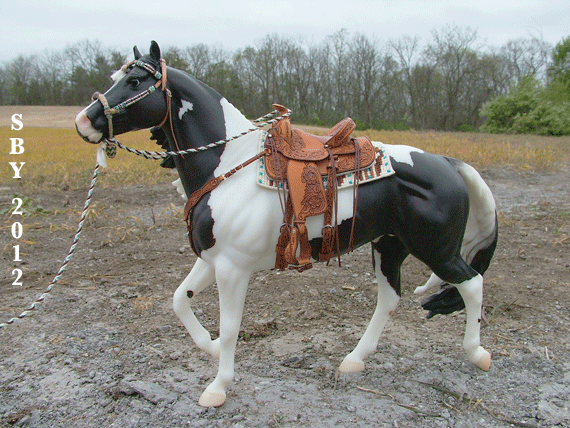 Not bringing a doll created its own problems. Most of my horses were standing still, so I could get away with ground tying the reins. But this fellow, Joker to the rest of the world (Coconino to me), is restless. I solved it by holding his leadrope to the side, out of the picture. A black and white horse allowed for a lighter blanket and a wider color choice, and I happen to be a fan of white, brown and turquoise tack. After many years I achieved a base-white blanket with brown and turquoise dots, which matches "Fancy's Hackamore" (2005). I won't bore you with how hard this blanket was to make, other than to mention it's gone through 3 complete incarnations. It's called "296" because it goes with my saddle TSII #296.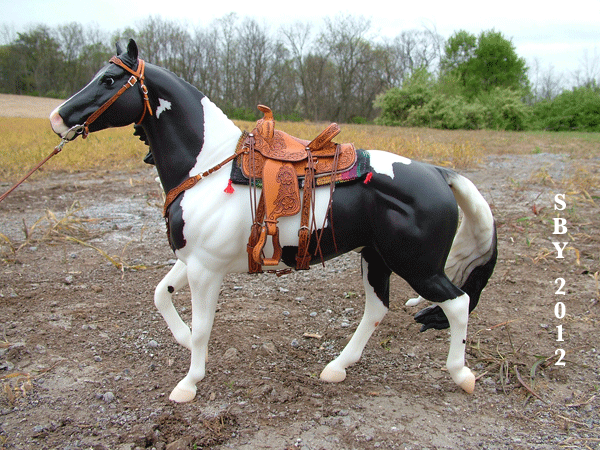 Here's the original Munday bridle, also seen below (later) on Callebaut.
This blanket goes with my saddle TSII #300, so it's called "300."  Excuse my lack of imagination…  Or should I be speaking at all, given that I actually name my saddle blankets?!   This field is part of the State Game Lands that just opened off Shiloh Road.  It's about 3 miles away from me, and we often go birding here.
This one is the heart of what I was aiming for. Indoors, I felt the graybronze of the mare clashed with the red of the saddle. Yet this is my best Western resincast; I had to include her (thank you Susan Peet, forever!). Outdoors, to my surprise, she looked fantastic. The red of blanket "300" reflects the saddle, while the more muted and beige color (and texture) of the Carter Hack balanced out the combo.  Ready to ride!!
If you're superpicky you can detect that this blanket is not identical to the one above.  That's because 300 has two sides.  I used the more purple side with the horse who had more purple in her coat; gold was the keynote of the other combo, on Coconino.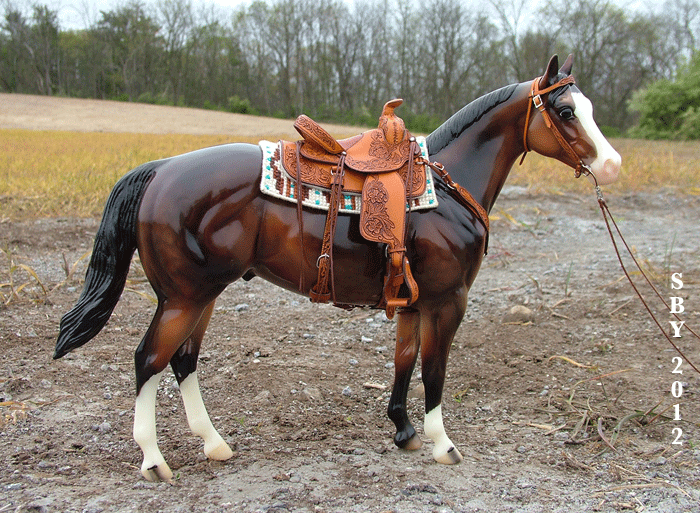 I intended this saddle for the Ideal Stock Horse.  When it came, this was the individual (of my 29 ISHs) I thought suited it best colorwise.  This is Caroline's Summer Star, a 2006 special run (75 glossy, 50  matte, for you Stone aficionados), but to me, he's Callebaut.  Trust me, few horses in my entire herd can handle such wealth thrust upon them.  Callebaut hasn't got enough personality at the moment, so the saddle will likely be shared amoungst several horses.
Like this one!! Fancy has been one of my favorites ever since she appeared. I guess you can tell I have a soft spot for leopard Appaloosas, but they display tack so well!!   Speaking of tack, this unusual bridle is by none other than Heather Moreton Abounader of Desert Night Creations. When I was putting pieces together deep in Saturday night, I was astonished how darkly intense, glorious, the pumpkin and black notes worked with the black blanket and red-orange saddle.  Usually black is too strong, but with a white horse and black blanket, it worked out gorgeously.  O.K., I didn't take the thread off her nose, but that's me — I put it there so the reins could be pulled (sticky wax is something I only use in show arenas), and it looked so normal I just forgot to PhotoShop it out.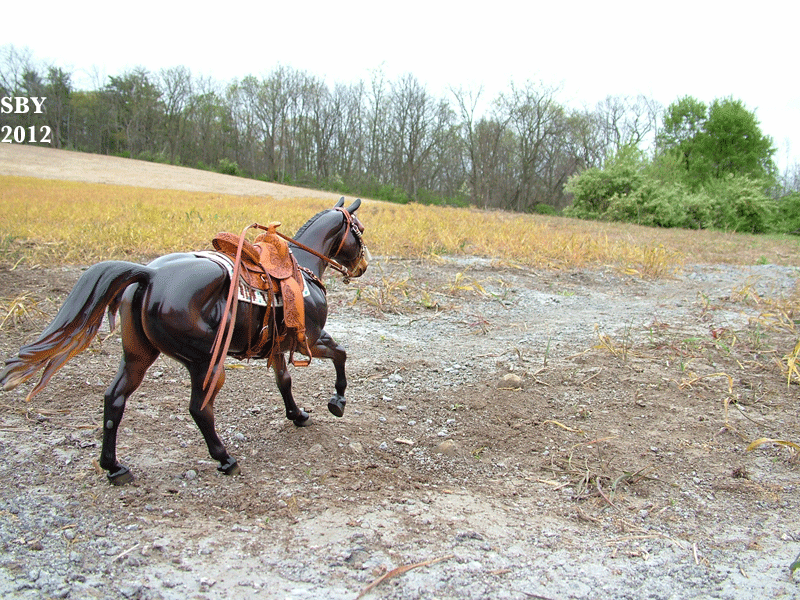 So now it's time to gallop off, and Coonti is doing just that. He is a 2011 Stone Factory Custom on their Foundation QH by Cantrell, "Celebration," one of 30, and just about the only glossy — I hornswoggled Peter into glossing him for me (all it took was cash). Some of you will recognize this horse as "Roach Fort" who was featured getting married at Didi's show last fall (Oct 2011), winning the Anything Goes class. I said he needed a better name, and down in Florida over Christmas we found it. Coonti is the wild vine that grows in the forests there, like greenbriar. I got him to commemorate my 'short-haired phase', little realizing how swiftly that phase would pass. He will long have a home with me, hard at work on the tack bench.
Thank you for reading.