What a difference six months makes!!  I know I've been dreadfully behind in posting pictures.  As my friend Katie Richards says, this is less and less a cancer blog and more and more about just plain life.  Let me tell you, it is so unspeakably wonderful to be normal… to be back to business.  I apologize for the lack.  I want to credit my dear husband George for NOT forgetting to try and take pictures each month, attempting to catch the many versions of hairdo as they went by.  For there have been a lot of variations, and each seems to have lasted only a short time, until some new way of holding it out of my face evolved.  We are missing only one month, May.
Let's start with a January shot.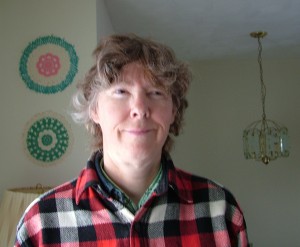 This was taken on the 14th.  There still is no real part, but I'm working on it.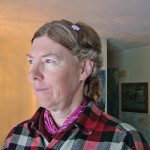 This one was taken in February.  It is important as one of the early documentations of using clips and barrettes.  I liked the little plastic flowers (haven't I made progress!!  a lifetime of never bothering with such things!)  until they broke off their clips, victims of sheer use.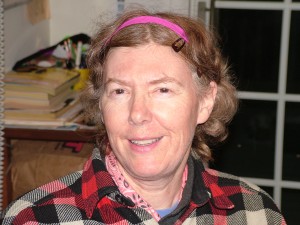 The pink headband here is token of my increasing efforts.  Taken February 9th, I had clearly established a part and was using a combination of barrettes and headband to keep the sides out of my face.  These are the medium size barrettes.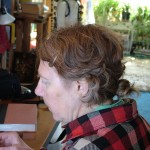 This side shot shows the dining room table.   Look how long the hair is getting: down into my collar at last!  February 19th.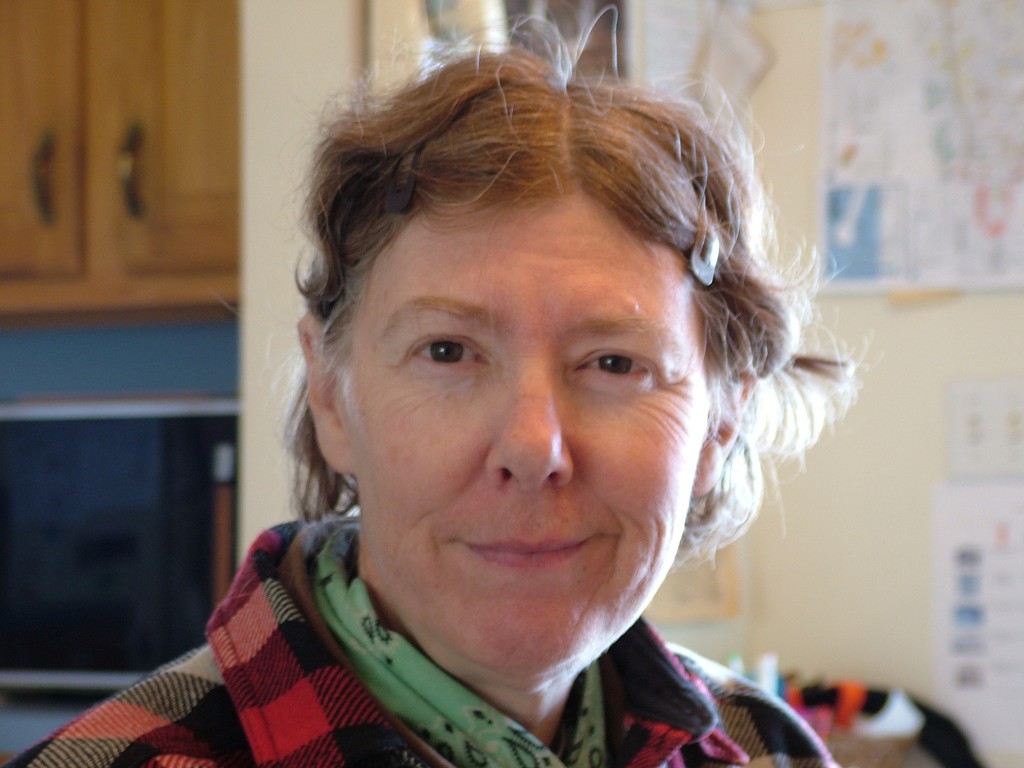 Below:  Again February 19th, I'm particularly pleased with the expression, if not the control of the hair.  I submit this in my Gallery of Impersonations:  Isak Dinesen / Karen Blixen [1885-1962], one of my favorite authors.  She even has the left slanted mouth.
March was one of the last months to see unbound hair.  From now on out it would be held back in some form or fashion.  March 17th.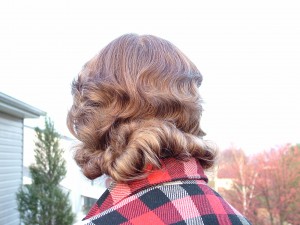 This shows how long it's getting, and the curious form:  the hair grows straighter near the scalp, but swirls into turbulence at the ends.  Is the weight pulling out the curls?  Or is it growing in straighter as time passes?   I honestly cannot tell.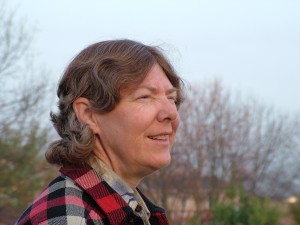 Same day, March 17.  Working indoors, I always squint when taken out for pictures — it is so bright out there!!!
The hair is now long enough to have to be pulled out from under shirt collars every day — what I call 'normal' — hooray!!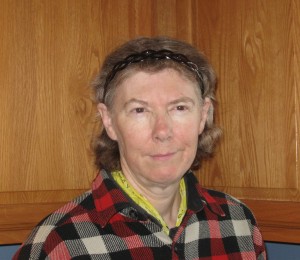 April 14.
This one will be the only shot for the next two months, and it shows my expanding range of efforts.  The device is a plastic headband, and — truth — I only wore it for this one photo session.  I couldn't wear my hat with it, which was a gamestopper as far as I'm concerned.  The reason there aren't many May shots is because we were travelling.  We went from PA to KS and MO and CO, then WY for a weekend, and then back again!!  In fact there were a lot of pictures taken during these 5 weeks, but they were rarely of me, unless you want to count the back view while canoeing.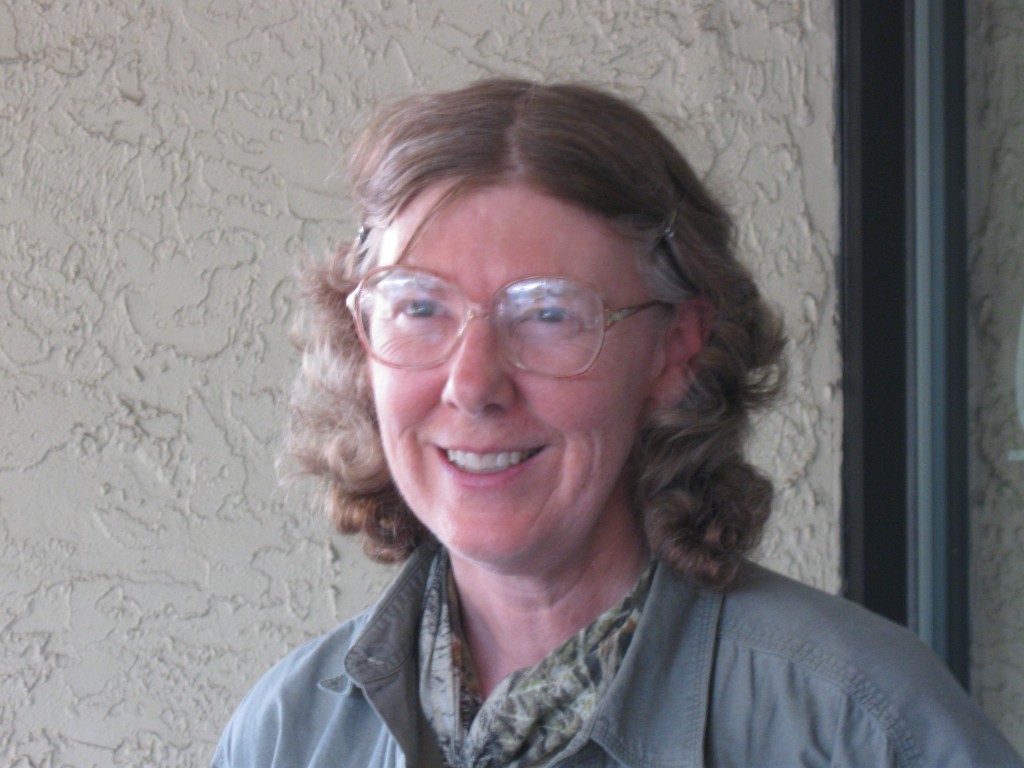 Isn't this a beauty??!!  It was taken June 13, 2012,  in front of Overland Park Place in Kansas City, where my mother-in-law lives.  It shows the heavy-duty barrettes I turned to when the thickness and sheer volume of the hair got to be too much for mere clips.  It also shows, beautifully, the drawbacks to them: a stray lock or strand will escape and get into my eyes, no matter what I do.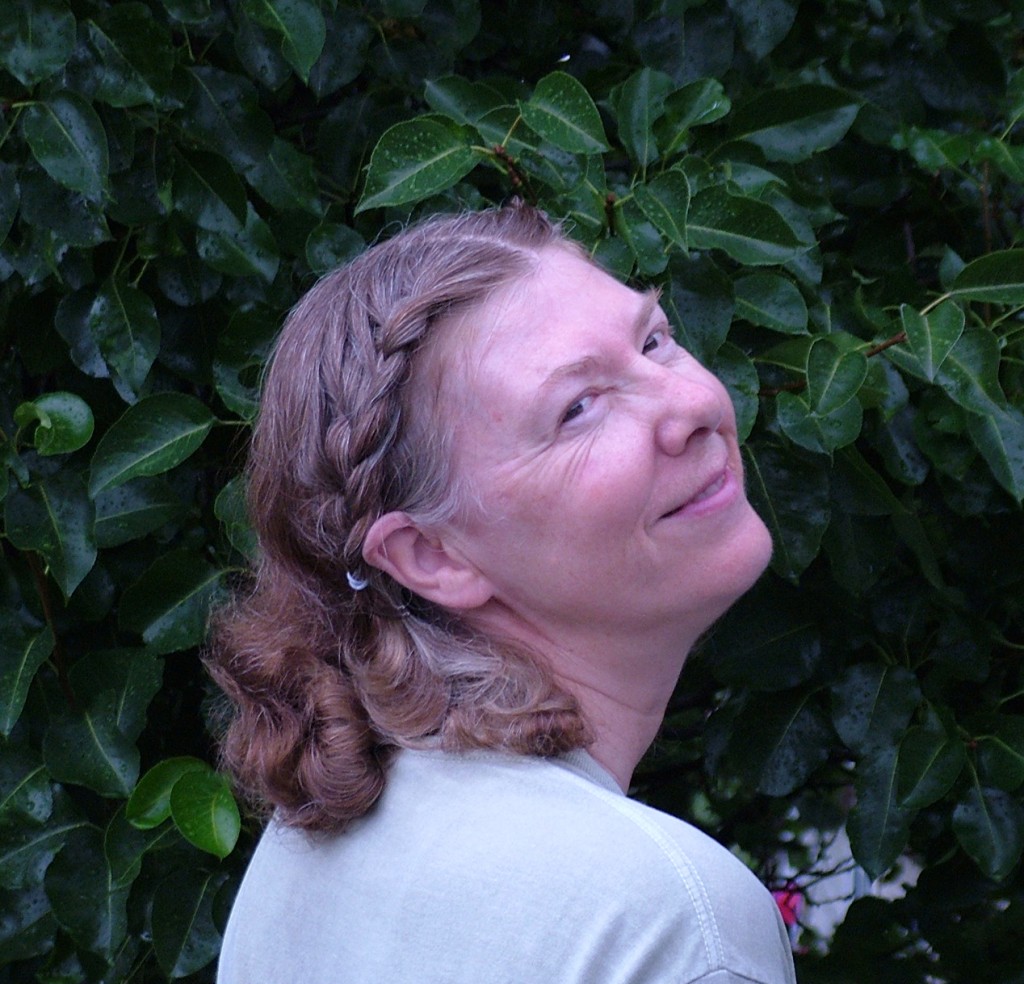 July 27, right after BreyerFest (during which the last few people who didn't know, such as Donna Chaney from England, heard the story of my hair).  In my Gallery this has to be "starlet" calibre.  At long long last, I am braiding again…!!  Things have come round full circle… This whole adventure has shown me how much better to wear braids on the head…  The tiny rubber band seen behind the ear is the smallest size in my collection of hair holders.  The heavyduty barrettes are there too.  No one taught me how to French braid; I am experimenting on my own.  I bought bobby pins for the first time in my life after this.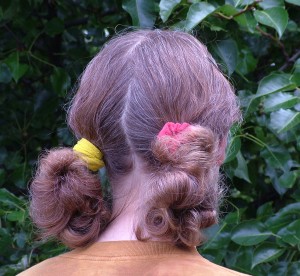 July 31 and so very recent.  It's long enough now I can do pigtails if not a ponytail.  (Didn't I go through this phase in gradeschool?!)   It really is too short to braid still, but I can throw my head around and feel how it swings against my neck.  This is freedom…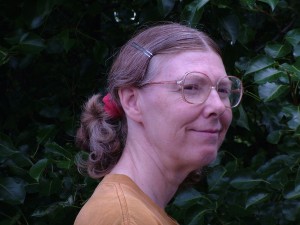 July 31.  And so we're up to the present.  The heavy duty barrettes are doing their job, although their paint has worn off.  In this shot you can imagine what is to come:  smooth over the top with a waterfall of curls behind.  As if you needed to ask, George loves it.  Some people may think this is long, but you don't know long…
On the actual treatment front, I have successfully passed a number of milestones, such as the one-year checkup since the end of treatment (Feb. 2011).  The next hurdle is the two-year CT scan, scheduled for late August 2012.  We shall see…  I would like to encourage fellow survivors to hang in there and tell their stories.   It's not an easy path, but you can get through.