It's more than time I updated this chronicle.  An entire year has gone by.  You can guess that my condition has just gotten better and better.  I no longer think of these adventures every day.  Yes, I am a survivor and will always be a survivor; my hair itself is one of my biggest reminders.  But I like to remind myself that this, this very life of mine so precious yet so taken for granted, is what my physicians, nurses and medical professionals were working for and towards.
Let's start out with early July.
I know my last installment stopped after this, so there is a bit of overlap, but this cutie deserves a spot.
Next, several late Julys.  This is the first serious braidwork to reappear.
Here are the first pigtails to appear.  We will see this approach again later.  At this time I was still using the big barrettes to keep the hair out of my face.  The scrunchies are getting a good workout — an excellent investment.  I used them until they stretched out and went limp.
This beauty shows, among other things, that picture-taking has slowed from every month to about every quarter.  It also shows what we suspected but didn't know for sure until now:  the curl is only on the ends.  It wasn't permanent.  The older, straighter hair is growing back in, returning.   The original is re-establishing itself.  I shall have long straight hair again, but always with a curly tail end:  So long as I don't cut it.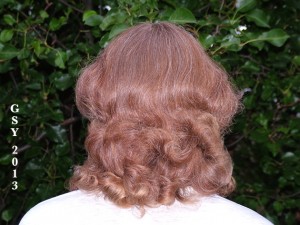 And I don't intend to.
I am starting to think of this mane as like a unicorn's tail, or maybe a lion's.
Odd to think that it's long enough for pigtails, but not for braiding.  This unusual picture makes it look shorter than it really is.  What's going on is that I've made 2 pigtails and then fastened them together behind, with a third color which can't be seen.
Binding these curly ends is rather hard.
Yet another shot on the deck in the fall of 2012.  We are making up for lost time with these hair photos.  The shape of things to come is clear.  My husband claims that the curly ends are redder than the top, that the straighter hair is duller brown and has more white.  In other words he thinks the curls are 'young' hair, and the now-younger, straighter stuff is 'old,' that is, contemporary with my age,…. early 50s.
Here's an October, proving that the pattern of shooting me every month at least stuck for a while.
The next series of shots was taken way up on State Gamelands on the Allegheny Plateau.  I haven't cropped them, so you can see the country around me.  We call it "Three Dog" strip mine (relcaimed), but that day we called it "Four Dog" because we'd found an extra lobe of land that hadn't been there before.  Such a good deal for the birders and hikers.  I was so exhilarated to be outside in the wild again…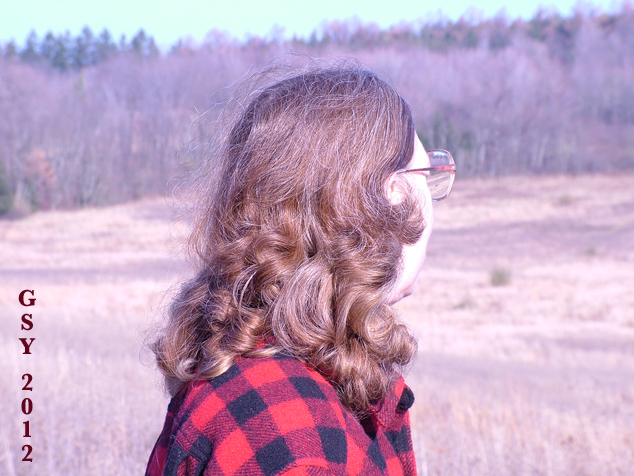 You have to admit:  'tis better than the great elk's crown, to have a mane like this again…
This is about the last time the hair can be free of any tie or hold.  It is getting long enough to be a serious entanglement in clothes, pack, everything.
Oh bliss.
Now it's 2013.  I have made it to the ballyhooed three year mark, although in actual count it's only 2 years 11 months since my treatments started and 2 years 5 months since they stopped.  The photo is reddish because, being winter, everybody's indoors.  Clearer and clearer is the fact that the ends are curly and the rest is going to be as straight as old.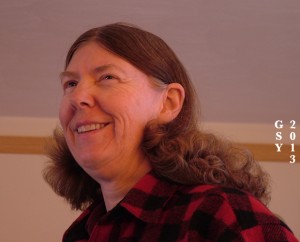 Something to smile about!!
Debut the ponytail.  For the next year, at least (certainly as of this writing), I will be wearing the ponytail.  As opposed to pigtails, barrettes, braids or headbands.  All these methods, except for braiding, have been passed by.
This shot, taken in early February of this year (2013) shows a fantastic new style, the partial ponytail.  This method of hair restraint utilizes the same hairbands as pigtails and ponytails but leaves a softening layer of loose hair around the neck, which also keeps the neck warm.  🙂  If brushed straight back over the forehead, it gives a totally different look again — something I love.  Movie star anyone!?  As it is I'm reminded of childhood friend Chris Pilz.  Forgive me Chris:  I love this hair!
This would be the last shot taken of my hair for more than 5 months.  Documenting the mane simply slid down the list and landed in last place.  Far more important chores awaited us.  My Mother-in-Law, Ruth Young (whose birthday is February 2) commenced to slide herself down the slippery slope of very old age dementia.  We lost telephone contact in December, email contact in March, and letters in August.  Interim services carried the situation for about 6 months, from February to July 2013.  We placed her in Assisted Living on July 10.  As of this writing she is in Benton House, Prairie Village (Kansas City), a very nice place — and one that had her approval at the time.  Now her fate rests in the hands of God.  To have such a family disruption, lasting more than 8 months — just about the length of my treatments!! — descend upon us within three years of cancer was, ummm, devastating and challenging.  To be rolled in the rock-tumbler of life…again…  And this time, there was not a career to look forward to, but only a duty to be bourne.  She has no other heirs and her husband died in 2002, and George's work schedule is such that most of the administration fell into my hands.  Never having been a mother myself, and never having had to deal with end-of-life or caregiving issues before, it was a steep learning curve for us.
All this at the distance of a thousand miles — central Pennsylvania to Kansas City — well… just imagine it…  it takes 2 days to drive one way,…
My phrase:  Having my nose rubbed in my own mortality, twice.
When we finally got around to shooting my hair again, 5 months had passed.  Verily now I had a Unicorn's tail of a mane.  This picture shows the color variations rather well.
This seems to be the classic pose.  Remember where I started?  Shot from the back on the back deck!!  In less than 3 years, I have a mane again.  I said I could wait for it to grow again, and lo, it has.  I estimate it will take about 7 years to achieve the great length it had before, although I know it will never really be the same.  At least for now, I'm not planning on trimming or cutting.  The curls are hard to make into a tassel, but that's what I want, so that's what I have:  tubular tassels.  It is a unique mane.  I enjoy the curls more and more — they're fun, beautiful and lively — without wanting to go back to all-over short curls.  Yes, I love it.
My message, then, to all you survivors out there:  It  probably won't be as bad as you thought it would be, so concentrate on what's good.  Let go of your terrors, let God carry them — He's so much better at it than you! — drain them off, by any method that works for you.  (For me it's journaling and writing, talking with friends, and occasionally crying.)  Enjoy what you have, even more fully than you thought you could.  Let go of extreme seriousness, without losing knowledge gained.  It will all work out better than you anticipated:  Such are the gifts of One Who loves us.
And I'd be willing to listen, if you need a shoulder to cry on.