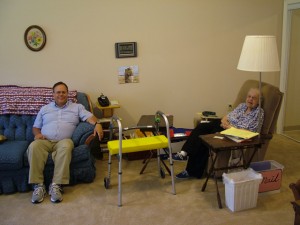 Ruth Young moved into this lovely 2-room apartment on July 10, 2013.  We had spent much of May and June hunting for the perfect Assisted Living home for her.  The move was the then-culmination of 6 months of long-distance caregiving for us, something we'd never done before and hardly believed we could.  We are in Pennsylvania, and Ruth is in Kansas.  Move a 93-year-old from the place she had been for 14 years?  (Overland Park Place since 1999, since 2002 as a widow.)  I felt like we were transplanting a tree: an old and delicate species.
We were facing a booked fall ourselves, and felt, as her needs changed, we could not go on depending on the contracted in-home services where she was at, even though they had helped immensely since February.  Some trusted friends and a doctor told us to consider Assisted Living.  To secure a room in a place like Benton House was, in many many ways, a dream come true.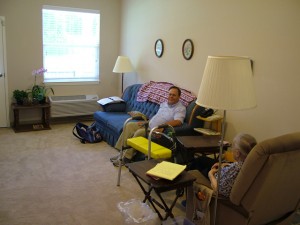 During the summer, when George and I were in Boulder CO as part of his work commitment to NCAR (National Center for Atmospheric Research), I used my parents' computer to do exhaustive researches of old age homes in Kansas City.  Our first encounter with the species was on May 6, during our week with Ruth before our Colorado and Utah phase.  I shall remain forever grateful to "Josh" of Freedom Pointe, for not only did he take us under his wing without an appointment (I now know this is a rarity!), he treated us to the marvelous world of modern assisted living.  Freedom Pointe was located right behind our favorite restaurant!!  Oh, the relief, the support, the friendliness of that tour!  We had never known this service existed, having heard only terror tales from my Dad and other sources about nursing homes.  It was clean, bright, smelled wonderful, and everybody was smiling.  Here we heard for the first time about Continuing Care Retirement Communities.  Josh, who was younger than us, seemed to think they were the next great thing, certainly worth investing in.  He wanted to get into one himself.  We were just glad such a place as Freedom Pointe existed.  For the next month it lurked in the back of my mind as a steadying star, a fallback we could live with.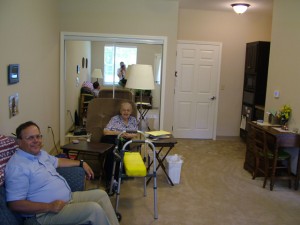 This is a view of Ruth's Benton House livingroom.  The mirror behind her is the large closet.  The cupboard left of the door is the kitchenette, really just a sink.
From May 27 to June 17 I made up lists, lists and pages.  I spent hours on the phone.  I taped pointers on a large map of Kansas City.  I found KDADS and other rating agencies online.  I faced my fear every day, struggling through the wall:  I had never had anything to do with old age or death before, never been a mother, hardly even been sick.  A wife, yes, but a long-distance caregiver?  Except for my cancer case I was 50 years a spoiled child.  I felt separated from the world, even from my family and husband: George was not the one to do this research.  It fell to me, who had no job (or one that could be easily pushed aside) and who could spend the time ramping up the learning curve.  I discovered more about old age homes than I ever dreamed: specialized Alzheimer's wings, floors designed not to be slippery, colorful dinnerware, all rooms on one floor to minimize travel distance, dedicated staff in the ever-burgeoning field of marketing.  You should ask for an appointment, get the tour, and it usually lasts more than an hour.  Don't go in unannounced.  Of the 5 places we eventually visited in person, four were fantastic and rated very highly in my eyes:  Benton House, Brookdale of Overland Park, Park Meadows, and Freedom Pointe.  The fifth, a place called Brighton Gardens, was one where we did not have an appointment: a red flag I know now.
It stank.  None of the residents looked happy.  Most were crammed on a dirty couch in front of the T.V.  Some were struggling with their walkers; nowhere did we see the fresh homeliness we had come to expect.  I stuck out that visit bravely, but it was an all-too-real glimpse of the past, a ghost past.  We told ourselves we could never put Ruthie in there.
We fell in love with Benton House, the newest kid on the block,  built over the site of a former elementary school.  (Ruth's greatest love was elementary kids.)  Lorie Carter did a superb job of selling; our ears loved her.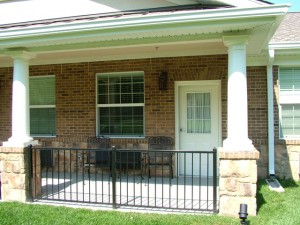 They had space.  (I had been worried about occupancy; in 6 months the place was halfway filled.)  The largest and grandest apt. was a 2-bedroom with a porch facing East.  Oh how lovely.  Ruth had always loved flowers and her old apartment had a balcony.  I confess the sunshine and porch were some of the attractions that can be described as more important to us than to Ruth.  This is a common failing, along the lines of me falling in love with their piano:  Ruth of course does not play.  A car salesman probably has a name for this all-too-human behaviour:  we indulged in pleasing ourselves as much as her.  If you ever need ego-boo, go get a tour of an old age home: they are exceedingly friendly, as monks must have been to travellers during the middle ages.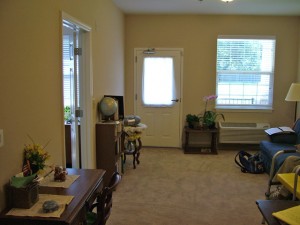 The previous owner had had a dog, and Benton House was vacuuming up after it.  We saw the room bare of any furniture, big and clean and inviting.  Although this apartment felt overlaid with the stress of the whole experience, still it was a dream come true, and ours to play with for a day, before the movers came.
We had cut down her former 3-room apartment's furnishings to those appropriate to two.  All in one week!!  (July 8-12)  a feat of unprecedented effort, not to say fury.  I'm naturally a materialist and it was quite hard to throw out so much stuff.  To make all the decisions on what to keep, what to trash and what to give away, under time pressure, turned me into a Marine Sergeant.  There is precious little other way to survive:  it was battle duress.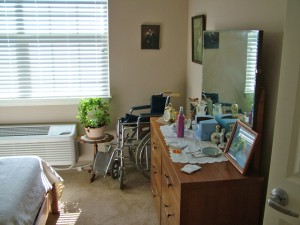 Arranging the movers was challenging.  I researched a pageful, found a good one, (Assisted Movers) but had a time getting them to reassure me sufficiently.  In hindsight my questions were the sort a hovering-parent might ask during a move to college.  The morning they showed up, Ruth was asleep and unprepared.  It still seems a miracle the move went off smoothly.  It was so anticlimactic in many ways; we just drove over.  I wrote a nice review for the movers, praising one man for letting us dump the TV set on him, which was (more or less) against company rules.  The whole thing took under three hours: Benton House was only 3.5 miles away.  The leading man was intensely focussed (I have no better word) and we pretty much had to get out of his way.  Only at the end, when I paid him, one worker to another, did we connect: a job well done.  I could identify with his pride.  Indulgent or slow they were not, but they were supremely efficient.  I found out later they'd had THREE moves to make that day.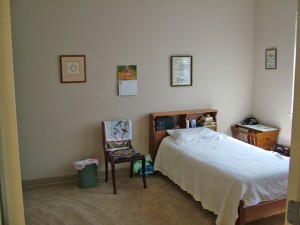 We put up framed works important to Ruth and used the bed she'd slept in ever since George left for college (it was his bed).  I made up the bed, and Ruth complained I didn't do it right.  I never had a chance to find out whether she'd fixed it to her satisfaction.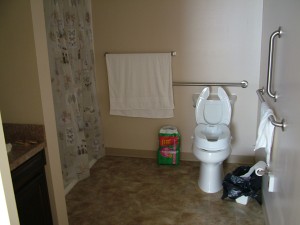 This picture shows the outdated toilet riser, discarded even before we left.  She couldn't stay on it, but slid off and hit the floor so hard her clothes came undone.  In hindsight this might have been a warning.
The big bathroom is for wheelchairs and for attendants.  Every one of her friends who saw it exclaimed, What a big bathroom!
Just one of the many jobs I did for Ruth over the course of these 11 months was to run out and buy her a set of white towels and washcloths when Benton House recommended it on their move-in papers.  Just like a mother sending her daughter off to college!   For some reason those towels mean a lot to me.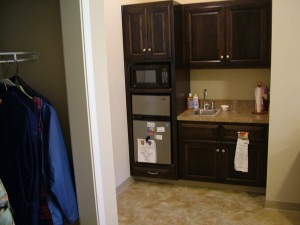 This is a view of the sink and fridge to the left of the door.  Behind those doors is a bunch of kitchen furnishings scraped from the Overland Park Place apartment.  I had a feeling we'd have to deal with all of them again… I just didn't know when, or how soon.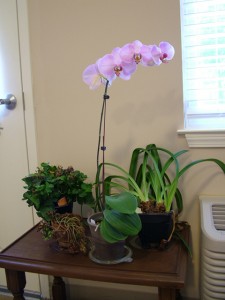 Ruth is a flower person.  I think everyone who knows her would agree with me.  George purchased this delightful housewarming gift for her the morning of our departure.  (July 12.)  George isn't too bad with the flowers himself, when he has time for them.  I look forward to a time and place when we can have flowers again, and he can fuss over bulbs.
I'm more of a book, saddle, leatherwork and piano person, happier at a workbench.  It is curious, but I'm the leather-and-wire person of the couple, he the birds-and-flowers.  Ruth is on the birds-and-flowers side.
She was an inspiring teacher of children.  One of her greatest legacies was reading to the Children's Cottage pupils every Thursday while she was in Overland Park Place.  I wish I had a picture of the last time.  George did the reading while Ruth sat magisterially nearby, a little smile on her face.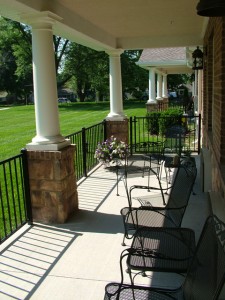 I can only hope she enjoyed her porch a few times, when the weather was nice.
Thank you, Marilyn, whom I know took her out there, and did so many other things besides.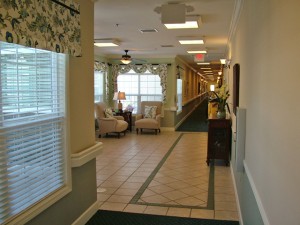 This is the view just outside her door.  It leads to a small sunporch within the hallway.
Oh why do the good things have to go away so soon!??!   This post is one of my memoriams, for Ruth and for our dream of Benton House.
As things stand now, she enjoyed it for just 4 months.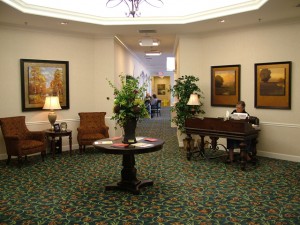 This is the lobby of Benton House, just inside the front door.  The staff was always friendly, and I know they gave their best.  We had just 2 meals with them.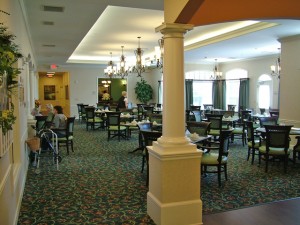 Although you can't see it, the piano is just around the corner to the left, at the end of this dining room.  Behind you to the right are some of the kitchen facilities.  When we were there during July, one of the residents was making cinnamon rolls.  Oh how scents are the most evocative of all our senses.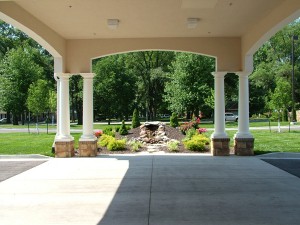 The front arcade on a sunny day.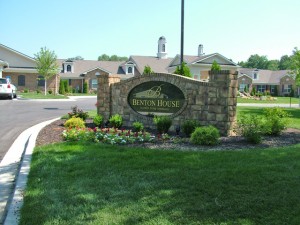 I shall always be grateful for the 3 months, August, September and October of 2013.  During those months, with a few wobbles, we healed and returned to normal, that greatest of privileges.  Ruth was happy in her new apartment, friends were notified, details were settled, and routines established.  I started making tack again, the ultimate sign of contentment.  Even George says he got one month's rest, in August.
And then, the call.  October 31.  Ruth had fallen yet again.  They felt they could no longer guarantee her safety.  They hadn't the staff, and were not set up to provide long term care.  She'd hit the long odds, for most residents were not supposed to need skilled nursing or long term care.  ("It rarely happens.")  We had to do the research and move all over again, not with months of warning but mere weeks.  We had arranged earlier to visit in November (18-22) and suddenly this trip became a window for a second move.  Heartbreaking?  Are not our hearts already broken?
What will happen to those towels I bought her?  They'll probably be given away.

Now, as of November 8, George's health is breaking under the strain.  Prayers are appreciated, all ye who venture here.
The Forum looks good, very good.  They have space in a semi-private room.  Stay tuned.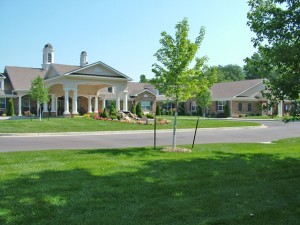 I want to remember Benton House as a place where Ruth was happy and well cared for, and as a time when we were secure in our knowledge of her care.  I am grateful.