I am placing this linking picture of Cat Bar and her "Cat Bar II" bridle, our NAN Auction 2006 piece, here at the head of the Braided Headgear page for a while.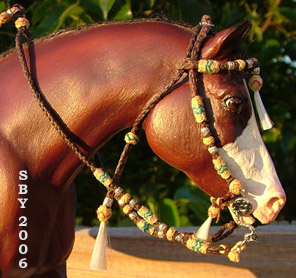 Now that the Auction has concluded, I can safely relate that the new owner of this incredible piece is Kellye Bussey with her winning bid of $325. A bargain was had that night!!! one of many. The page behind this pinto portrait is a VERY LENGTHY and long-drawn-out history of Braided Rawhide Bridles at the TSII. Read it and learn more than you ever wanted about FB RBs (Fully Braided Rawhide Bridles)!! The whole subject makes me want to write another book. For now, the wish to redo our Braidwork pages is just that: a wish. It will take more time than I currently can come up with to do it justice. It is on my list of projects for fall 2006. Forgive any duplication.
<! RULES="ALL" GIVES NICE BORDERS BETWEEN CELLS>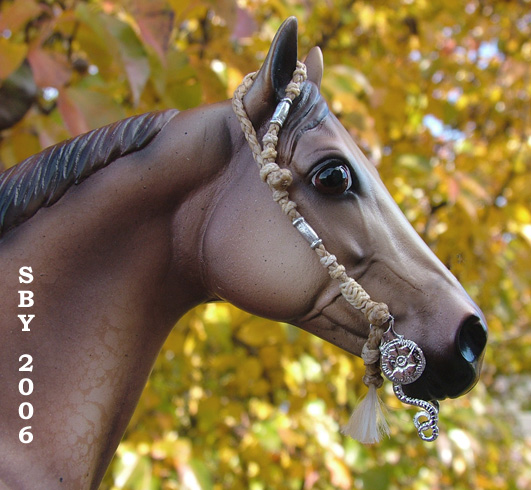 Finished Nov. 3, 2006, this headstall was designed as a companion piece to C. Evans' 4-Rein Bridle. It was inspired by her romal reins... a subject I love to do. I'd always wanted to make a slip-ear adjustable braided-rawhide headstall, ever since seeing patterns in Tom Hall's book "More Western Tack Tips." The real trick is to render them down to one-ninth: to simplify tremendously, yet still retain the essential appearance and function. I flatter myself I succeeded. It adjusts, as you can see from the pic below, by moving the earpiece end up and down, and then adjusting the button above the ring.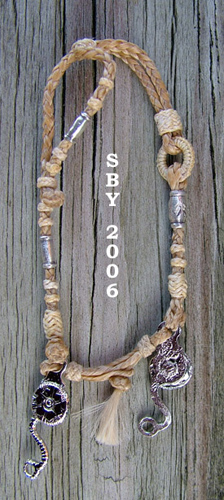 Another glimpse of the Evans 4-Rein Second Headstall. This one shows the design clearly. Transitioning from parallel strands on top of the horse's head to stacked strands right above the ring (the ring must lie flat against the horse's cheek) turned out to be easy. The curbstrap was inspired by one seen in the NRS catalog... again. The tassel on the curbstrap was created by dewaxing the sinew, a trick I learned from Regine Nikolaidis.

M. Hallam's FB RB. I did not think I would be able to surpass the Campbell bridle so soon, but here it is. The approach is different: instead of smaller thread (thus, more interweaves) with fewer colors, this one uses the large thread, and a doubling effect for more colors. This is the first FB RB to extensively use doubled colors on the interweaves. It is also my first to use multiple colors for the face ornament--- which is removable. (The Campbell's isn't.) The bit uses a slot concho. That forehead tassel just doesn't want to be seen, does it?! but it's there, off the browband center. Finished 0306.03.

A Short Order that I am very proud of for its color design, this is K. Meekma's flat braid bridle and breastcollar. The two blues together just seem to glow; I will be repeating this choice! The set originally had dees instead of rings on the tug straps. The rings bring it into congruence with the bridle. Finished 0303.20.

This is a trade bridle made for a friend, K. Swanger Grove. (I gained a Hickstead.) Noteworthy for its color scheme, this bridle proves that dyed thread can indeed simulate the artificial sinew, and that yellow and turquoise can get along with each other. Finished 0302.18.

W. Galbreath's Western Show Halter. Although the pic does not do it justice, there are golden rosettes at the ends of the plates, gold-plated rollers on the buckles, a gold tongue on the crown buckles, and other touches. Based on Sergeant's Western World's 'Classic'; crown buckles by Rio Rondo. Finished 0301.20.

This is Heather M. Abounader's flat braid bridle, which I have taken to calling the Hybrid. The crimp beads on the rein connectors and curb strap are smooth ones; I got them in Germany, while visiting fellow collector and tack maker, Barbara Stoeffl. I don't know whether these types of throatlatches are legit in the show ring. There are many, many other uses for model tack besides showing: sheer rejoicing is one! Finished 0301.29.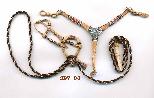 New for the New Year 2003, a four-color bosal hackamore and breastcollar set, owned by K-J Morgan. Nothing like studying Hought's books to make you realize true proportion! --- and, look at that heel knot. A double interweave was itself doubled three times (rust, black, and white) and a fourth, but single, interweave inserted to make the brown. Needless to say I'm amazed it worked! The end concho is handmade from a sterling silver disc. Another first to this set is the sinew knot on the tail (quirt end) of the mecate. Finished 0301.15.



Forward to Braided Headgear Page Two.
Forward to Braided Headgear Page Three, with goodies going back to 1996.