Guide to Making Model Horse Tack
"The Ultimate Tackmaking Book"--Sue Sudekum "Everything about this book is remarkable"---Gail Fitch, author of Hartland Horsemen
Have you always wanted to make tack but didn't know where to start? Or have you started, but need a little extra inspiration?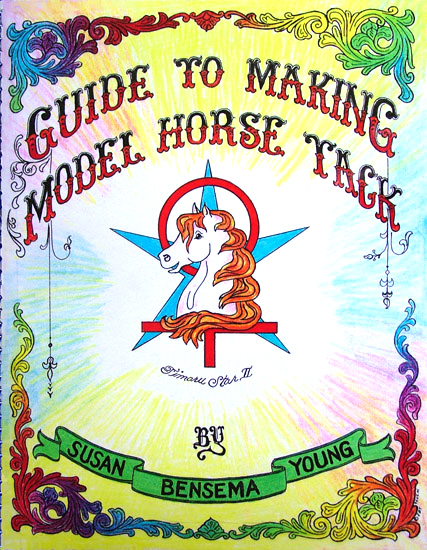 Take advantage of the TSII's 37 years of experience! Updated in 2016, this second edition of the famous Guide shares a lifetime of tips and tricks in the art and craft of making tack for the model horse. The most wonderful aspect of the update is the over 70 color photographs, black and white for the past 18 years but now seen in all their glory! The Guide now has 223 pages (up from 210), easy-to-read text and 53 professionally-drawn full page diagrams. A few photos were left black and white for clarity. The knowledge and expertise gained in crafting tack which can stand the test of time is a foundation to build upon.

THE GUIDE IS CURRENTLY AVAILABLE ONLY IN PDF
The Guide, first published in 1998, is still the most comprehensive volume ever attempted on the subject. Five of its 12 parts are aimed at the beginner; they cover the basics. The next four parts form a "bridge" between easy and advanced; they include Western Bridles, Braidwork, English Bridles and Saddles, and Breastcollar Harness---this last in 3 levels of detail! The last three parts of the Guide feature extensive instructions on making advanced pieces of tack: a Draft Show Harness and a treeless Western Saddle. The Guide is written for adults but assumes no prior experience in the field. Click here to see some pieces made by people using the Guide!
A logical question is what has been updated and how much? A total of nine hundred paper copies of the 1998 Guide were published and they are certainly still very useable; the patterns and basic methods of tackmaking have not changed. The most noticeable additions to the 2016 edition have been several ways of silvering, new approaches to the Western Saddle tree, a new chapter on blankets and a second Introduction. The text was clarified, updated with the experiences of 18 more years and edited throughout, out-of-date references removed (such as 1990s prices and colored Mirrorflex), many new products mentioned and the Sources updated. There is something here for every tackmaker, no matter their level of expertise!
Over 80 photos -- 71 in color
53 full-page professionally drawn Plates and Diagrams
List of supply sources and links
Complete patterns and detailed instructions for 15 pieces of tack:
7 Halters including Stable, Light Breed Show, braided Arab Costume, Rope Halter and Western Show Halter. English Snaffle Bridle with laced reins. English Cutback Saddle. Western slit braid Bridle. Breastcollar Harness in 3 levels of detail (Basic, Intermediate, and Advanced). Harness Collar. Braided Rawhide Bosal. Draft Show Harness with clamp-on Scotch Peak. Fully Carved Western Saddle (treeless).

AND SO MUCH MORE ! ! ! ONLY $11.99 ! ! !

This is for the .pdf! Paper copies Not Available at this time!

At Last! Thanks to generous support from my husband and many others, the Guide is now available in .pdf format. Customers will be provided with detailed download instructions. For ease of downloading it is divided into 7 pdf files which together contain the original 12 parts:
Intro = Front Cover, Copyrights, Acknowledgements, 2 Introductions (1998 & 2016), Table of Contents (3MB)
I-V = Setting Up, Raw Materials, Preparing Hardware & Lace, Ways of Fastening, Halters (24.1MB)
VI-VIII = English Bridles & Saddles, Western Bridles, Braidwork (32.8MB)
IX-X = Breastcollar Harness, Collar Harness (21MB)
XI = Draft Show Harness (7.9MB)
XII = Western Saddles (22.8MB)
XIII = Sources, Back Cover (1.6MB)
You are buying the pdf, not a paper copy!


Please note it may take up to 3 days to process your order (possibly 4 during Christmas vacation); thank you for your patience. In addition, my family has a policy of shutting down the computer if it's thundering.
Non-PayPal Orders: We accept checks and money orders.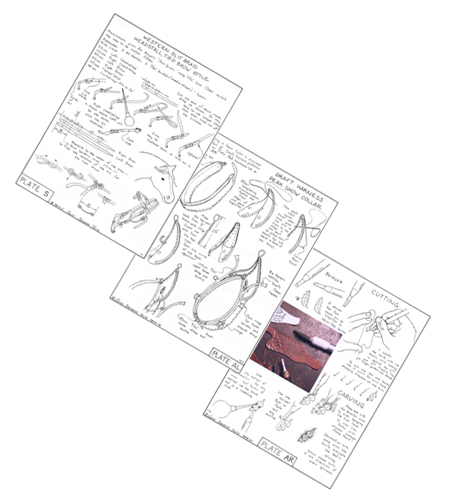 There may be a delay in processing checks as they must clear. I can only accept credit cards through PayPal's arrangements; I cannot process credit cards on my own.
At the moment I am researching print-on-demand services, but have no plans for offering the updated Guide in bound form myself. I encourage you to make use of print-on-demand services, or just print your own copy or the parts you want.

Make checks out to Susan Bensema Young. Do NOT make them out to the Timaru Star II please! Mail to:

Susan Bensema Young
Timaru Star II Model Tack
210 West Hamilton #104
State College, PA 16801-5218

Thank you for your order! Have fun making tack!

"...remarkable: the fact that you're sharing...so well with well-organized text, excellent photos, and outstanding drawings. Then, there's the detailed table of contents, source list, and index, not to mention the best covers and binding I've seen on a self-published model horse book."---Gail Fitch

"The book is GREAT! You must have put a LOT of work into it... going through your book is the next best thing to getting together...with another tackmaker."---J. Kistler

"I got your book this AM and I have to tell you this is AWESOME X 10. I now know what everyone was going on about. They were right. Thanks so much."---K Wilkerson

"I am ever so grateful that you have taken the time to produce such a wonderfully illustrated book for those of us who are 'Still in the Dark Ages of tackmaking' (somewhat!)...What a great book!"---Angie Thomas

"All I can say is WOW!!! Love the drawings, love the color photos, love all the details! Thank you Susan for providing this book to the hobbyists."---C Mundee

"I just wanted to send my praises regarding your tack making book...It is honestly the first book I have ever read over and over. It has been a real inspiration... I really feel that it was largely in part to your book that my tack was so successful."---Melissa Hart

"The guide arrived safe and sound before the weekend. Thank you so much!! I spent all weekend pouring(sic) over the book and now am chomping at the bit! It's everything I was told it was!"---L Sharpe

"Just a quick note to say that my tack book arrived. I'm totally knocked out. The detail!! The illustrations!!! The invaluable insider information!!!!!! Thank you so much for offering this wonderful resource."--- A Richardson

"I purchased 'Guide to Making Model Horse Tack' recently and just finished reading it from cover to cover. What a great book and exactly what I was looking for! ... Thanks for all the inspiration you've given me and all the hard work it must have been to create the book."---L Blake

HISTORY: The Guide was first published in November 1998. It is registered with the Copyright Office of the United States and can be found in the Library of Congress. Demand was steady enough to justify all the printings listed below. Each printing was 150 copies. This record is truly amazing for a home-built, and I am deeply grateful. :) The reprintings are distinguished only by their coil binding color.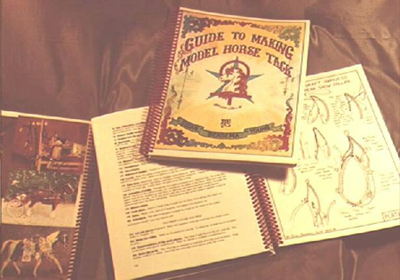 1st printing: November 1998. Red
2nd printing: June 1999. Emerald Green
3rd printing: June 2001. Deep Blue
4th printing: September 2003. Clear
5th printing: April 2006. Gold
6th printing: February 2010. Purple
1st E-release: April 2016. pdf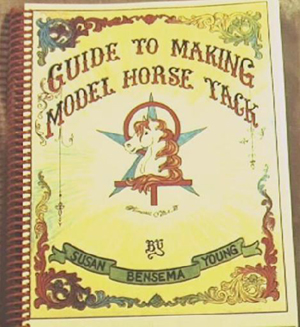 Thank you, dear customers, for keeping this book in print and in stock for nearly 17 years (November 1998 - August 2015). This is a remarkable record, and I will always be thankful.

If and when I write another book, you will hear about it on this website's main page, and also on our blog (timarustarii.blogspot.com) and FaceBook page (Timaru Star II Model Tack). A book on Miniature Braidwork is the most likely candidate at this time (2016).
Heartfelt thanks to all my customers, both tack and book. The TSII sails on because of you.