<! RULES="ALL" GIVES NICE BORDERS BETWEEN CELLS>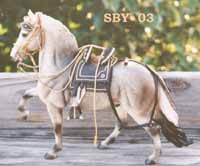 Timaru Star II Peruvian Paso set No.2, now owned by C. Robertson. This set was begun in February of 2003 (before No.3) and was intended to explore the idea of rawhide braidwork as decoration. I was inspired by a real-life saddle seen on Raintree's website. It is quite within character for a Peruvian or, indeed, any Spanish-derived horse breed of the southern latitudes, to ornament himself with braidwork. Although not seen on the original saddle, rosettes on the skirts and tapacola added to the appeal and spread out the impact of the contrasting braid, amoung other things.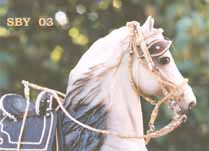 Close up of the headgear of No.2, made for this model, Breyer's Inolvidable (Unforgettable). &nbspThe bit is a Rio Rondo-- they are the most correct I've found. Over fifty hours of work are in the headgear alone; each button tied on with a needle, tightened with a needle, ends fixed, then trimmed. Then it is dyed with a custom dye; then coated with two different materials for sealing--- drying in between each. On this set I used smooth crimp beads for the silver ferrules. If you remember that the rider has to be able to lower the tapa ojos from the saddle, you will never get mixed up and place them above the browband.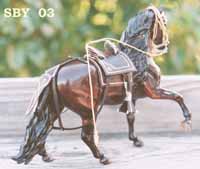 I particularly love this picture. There is something glowing about Sanko as he gaits away-- his color, the swing of the foreleg (called termino), the long loose mane and tail. This pose seems to conceal his faults and celebrate his strengths...! This must have been what Linda had in mind. The retrancas, or breechings, are just long enough: correct is "three inches above the hocks". The stirrups are hung, by rings and straps, so as to be always with the opening to the rear. At first I thought the Rio Rondo-cast stirrups would scratch the horse... but then I learned they are exactly curved to the body.
<! RULES="ALL" GIVES NICE BORDERS BETWEEN CELLS>
The headgear for No. 3 was made of a new kind of sinew for me at the time, Leather Factory's No.30 Fine. This stuff was thicker and of a more tawny, almost redder color. I did not have to split it down off the spool---big relief!---and naturally it made a thicker rope, so it was perfect for the larger horse. It was on this set that I finally figured out how to do those little leather wear-flaps, such a distinct feature of the Peruvian gear. Very delicate! You can see one at the top of the throatlatch fastener: even the tiny silver keeper-ferrule will slide up and down, along the braided loop around the pin-head. The headgear on a Peruvian easily beats the saddle when it comes to hours worked---I think of them as a kind of super-FB RB. The bit on this one is a Sue Rowe creation.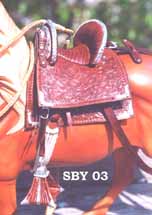 With this saddle I feel I strengthened and perfected the technique of the encased core. Note the curve of the seat and of the cantle. New tooling patterns were made---each of the 3 Peruvians has its own pattern, and is hand-carved, NOT stamped (except for the borders). This set's silver corner plates were made of strengthened silver tape, which was then tied down with Mylar tinsel, and held down with the tiny spots. It was on this saddle I dared to use the Galaxy lace for a binding---and it worked. Amoung many other firsts, the color on this saddle came out very pleasingly... it went naturally with the sinew of the bridle. I guess I like red.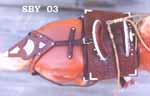 This is the best way to view No. 3's seat and its carving, the pommel and cantle binding. As before, and also on TSII #422, I found that prepared braided Galaxy silver lacing makes a better binding. The mylar tinsel, which is so effective in other places (like parade), is too thin, and too much of the gold side shows, to work well here, where heavy strength is needed. Such braidwork is quite difficult... this is some of the slowest work I can muster. The odd whitish cast to Chipsy's offside rump is a reflection of some flower pots.
<! RULES="ALL" GIVES NICE BORDERS BETWEEN CELLS>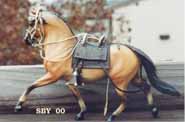 Outside of McClellans and 1 Arab costume, I'd never made a saddle with a tree. A Portuguese Bullfighting saddle I made in 1997 was helpful, but even so, a notebookful of Peruvian reference was not enough. Eighty-plus hours of experimentation went into it, including a fabulous idea for a leather-encased metal core to give the saddle weight and strength. This piece of tack has given rise to the greatest compliment a modeller can recieve: Peruvian Paso people have taken it for the real thing. ;)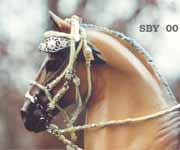 A close-up of Buckler's 'Raven' wearing my first full Peruvian Paso set. At the time, in 2000, I had no other Peruvian model, so 'Raven' was on the spot! Doing this tack aroused a deep admiration for the Peruvian method of handling a horse. There are four places where the headgear adjusts. The tapa ojos have to be tied in a figure-8 knot by hand---that is the strap hanging down with the metal tip. The gamarilla, or nose plate, is used to raise and position the bit in the horse's mouth. Fancy ones are chased and hinged. I couldn't manage a hinge.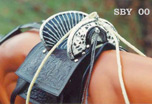 The saddle viewed on an angle from the front. In real life, such sterling-silver filigree is expensive, rare and almost too flashy. (Almost a command to us, eh?!) In model, the effect is achieved with silver tape applied to leather, then cut out. This shot also shows my earliest binding effort. Again, I turned to silver tape. It successfully depicts the solid-metal real-life binding; however, I worry about the adhesive.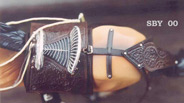 Bird's eye view of the elaborate seat stitching of Set No.1. That seat was one of those all-too-common cases where the tackmaker tries too hard. Yes, those lines are actual thread stitches, atop a painted background... painted after the stitching was done... evidence of a changed mind. While I can do this sort of exacting work, it is very typical of a pioneering or experimental piece in that it was later dropped. Set No.1 retains its own charm: one of a kind.
Click here to go to Timaru Star II Peruvian Paso Sets Page 2, which details P4 and P5, made in 2005.